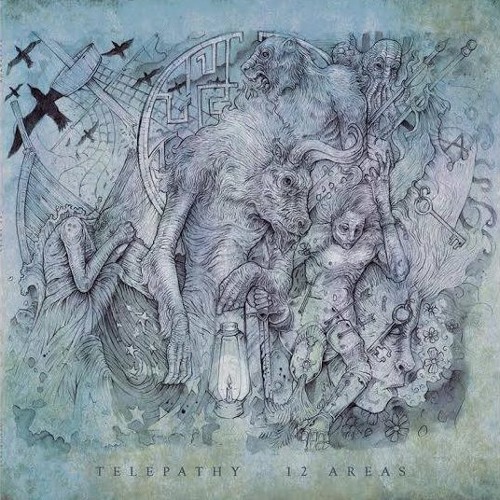 Devouter Records are pleased to release the first track 'Cystine Knot' taken from TELEPATHY's debut album "12 Areas" out on May 5th.
Eschewing genre guidelines and traditional song structures whilst blending elements of Progressive Sludge and Post-Metal, TELEPATHY have been causing a stir on the UK and European underground circuit since 2011.
The new album from progressive sludge behemoths TELEPATHY will be arriving on "insert release date" 2014 on UK based label Devouter Records. Available on 12" LP, CD, Digital & through Bandcamp, the album sees TELEPATHY expanding on their all compassing, technically proficient sludge/ post-metal sound whilst adding elements of noise, ambient and drone to their already crushing sonic palette.
Beginning with the slow and uneasy fall into unconsciousness, the record explores the subject of lucid dreaming and dream phenomena, charting the progression of a lucid dream and the many sleep states of the human mind involved in the experience.
Pre-order the vinyl or CD at
http://devouterrecords.bigcartel.com/
The vinyl copy comes on transparent sea-foam green vinyl, with textured reverse stock packaging and additional art work on an art card inner sleeve.
Mastered by James Plotkin (Khanate, Old Man Gloom, Isis, Cave-In etc) and with artwork by Alex CF (Light Bearer, Fall of Efrafa, etc)